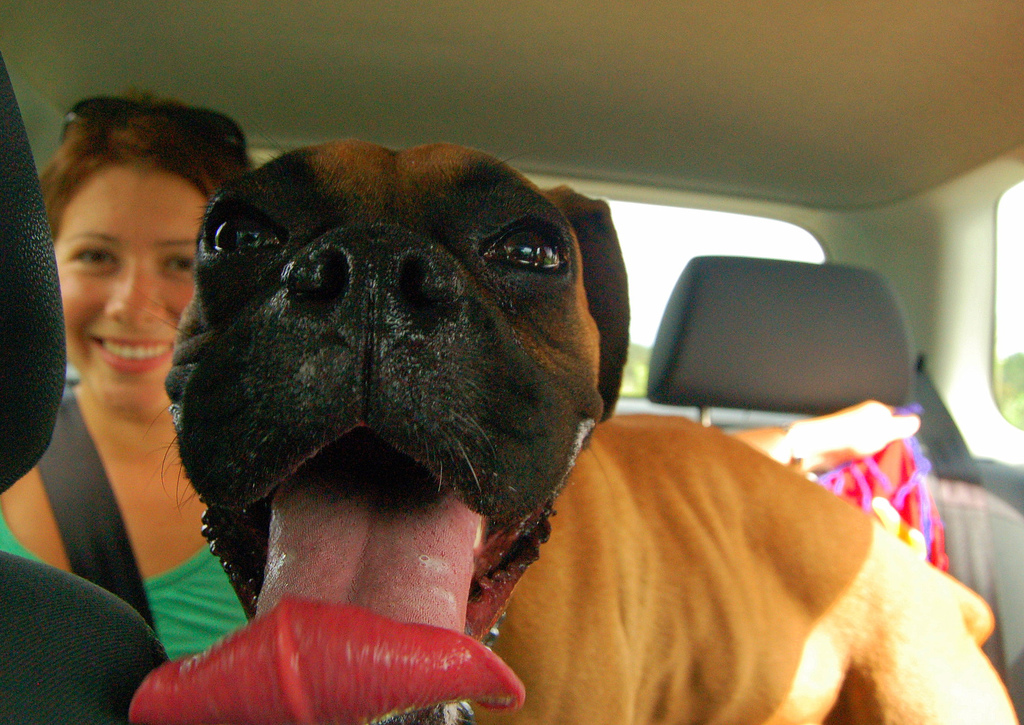 Thinking of taking your dog on vacation this summer? Traveling with dogs can be a rewarding experience that's fun for everyone involved. But it can also be stressful without proper planning that takes into account everyone in the family, including your dog. Before you take your pooch on vacation, make sure that you have done everything you can to help him be comfortable and happy during the journey.
Your two main choices when traveling with dogs are to go by road or by air. There are advantages and disadvantages to both, and the two ways of traveling require different types of planning and preparation. This first post will help you plan for your trip by car with a dog or dogs. Later posts will focus on air travel and finding dog-friendly accommodation at your destination. At the bottom of the post, you'll find a free downloadable checklist you can use to make sure you remember everything you need to make traveling with dogs safe, fun, and stress-free for everyone!
Before the Trip
While traveling with dogs can be great fun, it can also add extra stress to your trip if you, the human, have not prepared well to make sure your dog is comfortable, both physically and psychologically. The same goes for necessary trips like a move. It's worth thinking through all his needs and properly preparing for any eventuality that might happen while traveling.  Make sure you always are mindful of his need to have his personal bed space and favorite toy or two.  Continue to feed, exercise, and rest him regularly.  He will recognize his routine and it will help him stay calm and confident.
Before you hit the road with your pooch, you first have to make sure that all of his basic needs are met, and he is able to travel safely from where you are to where you are headed. Prior to any long journeys, your veterinarian should give the dog a thorough exam to make sure he is fit and ready to travel. If traveling to another state or country, you should keep a certificate of examination and proof of vaccinations on hand, as in many places it is the law. Frequent travelers in Europe can avail themselves of a dog "passport," which gives your dog an automatic clean bill of health in each participating country. It's also a good idea to bring your veterinarian's phone number along, in case you should run into any health issues during your trip. If you have a health emergency with your dog while on vacation, however, of course you should take him in to the nearest veterinary clinic.
Now that your dog is healthy, with hard proof from a veterinarian, it is time to gather what you need before your big adventure.
What's the Dog Equivalent of a Seatbelt?
Traveling by car is probably the most popular method when you are heading to a destination with a pet.  With a car, you have no extra pet fees, you get to stay in total control of your dog's care, and he never leaves your side! You can always make sure he is hydrated, taken out to do his business, and is never overheated or left in cold temperatures. Traveling with dogs in a vehicle can be a bit cumbersome for them, but a few items and actions on your part will make the trip a walk in the dog park for the both of you in terms of safety and comfort.
First, you need to make sure the dog is safe and secure while the vehicle is in motion. A dog that is left free to roam in the car is more likely to cause a driver to lose control of the car. If an accident were to happen, an unsecured dog could be seriously, if not fatally injured.  While car safety harnesses exist on the market due to the huge demand for them by pet owners, it has been recently shown in crash tests that they are just as unsafe, and sometimes more dangerous, than a free roaming dog in the event of an accident. If the harness does not snap and send the dog through the windshield, he has a high likelihood of neck and back injuries from the harness.
The only tried and true way to prevent these types of injuries to a dog should an accident happen is through the use of a travel kennel or crate. The metal is strong enough to protect the dog from flying around, or out of the car, as well as preventing him from becoming crushed in the event of an accident. This is another advantage of crate training your dog—should he need to travel he is already comfortable in a crate. Whether or not he is accustomed to the travel kennel, be sure to help him become so by including his favorite pillow, blanket or bed in the kennel to help him stay relaxed and comfortable. You can also include doggy heat or cooling beds depending on the weather, but monitor them closely while traveling so that you don't inadvertently overheat or overcool him.
What to Pack for Traveling with Dogs by Car
Have a travel water and food dish on hand if you are riding for more than a few hours. Offering him water every 45 minutes or so during warm weather, as well as giving ice cubes to chew on can keep him cool and hydrated. A dehydrated dog is difficult to deal with on the road when you are so far from your veterinarian. For food, have a little more than you expect to use during your trip. If you are leaving for only three days, pack five days' worth of food, because you never know what might come up! You could end up with a broken down car and have to stay overnight at a hotel, or perhaps you might decide to stay on vacation for a day or so longer than you had planned.
The ability to buy the same brand of food that you are currently using may not be an option for you where you are going, and switching foods during such a high stress event in the dog's life could upset his tummy more than the car ride alone. Of course, if your dog needs any medications or supplements, you should be sure to bring along an ample supply of those as well. A bag of his favorite treats can also be nice.
Don't forget to pack your poop pickup bags for those potty breaks every 1 to 2 hours, either! Traveling can be stressful for even the most laid-back of dogs and diarrhea can happen, causing them to do more business than usual during pit stops. Always clean up the mess your dog makes, no matter where you stop. Being a responsible dog owner also means keeping the messes that he makes picked up, even if it is at a rest stop. If too many owners don't clean up after their dogs in public places, it can lead to bans of allowing pets to potty in these areas. Prevent that from happening by being responsible for the business your dog does!
Plan the Trip with Your Dog in Mind
If you are on an extraordinarily long road trip that will last more than a day, take exercise breaks with your dog. Map these out while you are planning the trip so that you know exactly where you want to go for a walk, jog, or for a game of flying disc in a park or open space. Knowing these ahead of time will take the guesswork out, and will relieve stress that your dog is being forced to cope with while riding in a crate for long periods of time.
If you take the time beforehand to accustom your dog to his crate, bring along his familiar food and toys, make sure he's healthy, and allow for proper exercise and potty breaks along the way, you're well on your way to planning a trip that will be fun for you AND your dog. Feel free to download and print the following checklist to help you remember everything you need to bring. Happy travels!
Dog Business Tip: If you are a dog professional, you can offer your clients a "travel pack" with travel food and water dishes, potty pickup bags, bags labeled for food and medication, and a copy of the checklist above. For more great tips on how to enhance or start your dog career, download our free guide.